Academy
WALK4Talent: The Talent Acquisition and Skills Development Service
Attracting and retaining talent: antidote for the skills shortage
Companies are finding it increasingly difficult to find qualified people to join their organisations. The shortage of suitable technical skills and increasing competition for talent makes it essential for companies to develop a brand positioning strategy.
In order to attract and retain top talent, companies need to prove that they are not only competitive in terms of remuneration and benefits, but also provide opportunities for professional and personal growth.
Walk4Talent supporting companies and talent
Talent Acquisition
What benefits for your company:
Specific training for new talent: through targeted training programmes for new talent, you will prepare your future employees.
Increase the basket of available talent: during the training you will get to know and select people interested in joining your organisation.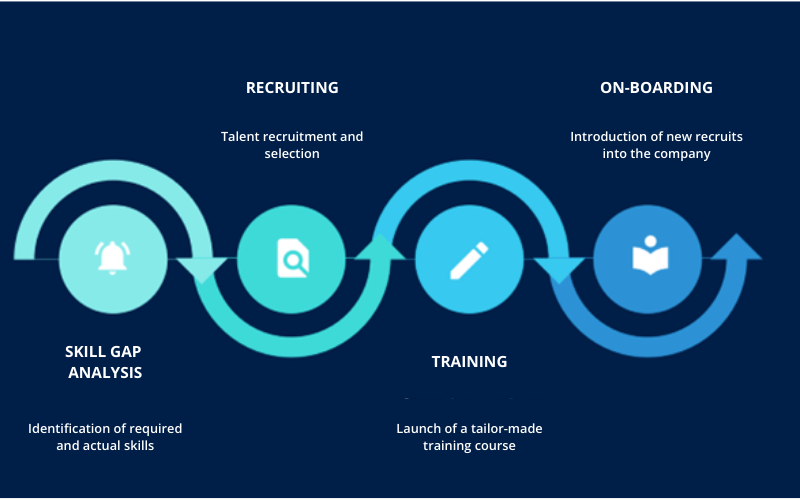 Consolidation and dissemination of internal know-how: it is important that the company know-how is accessible and sharable between departments so that everyone can use the company's information and tools.
Employer branding: you will promote your company's brand as an inspiring and valuable place to work. You will collaborate with universities, schools and research centres - attracting young talent and spreading your corporate culture and values.
Increased employee engagement: through high-value training and professional development paths you will increase the sense of belonging to your company and the motivation of your employees.
Anticipating market trends: thanks to continuous training and dedicated paths, you will have a maintenance plan for your skills that will enable you to take advantage of the new opportunities of the digital and green transition.
Contact us for more information on our service.